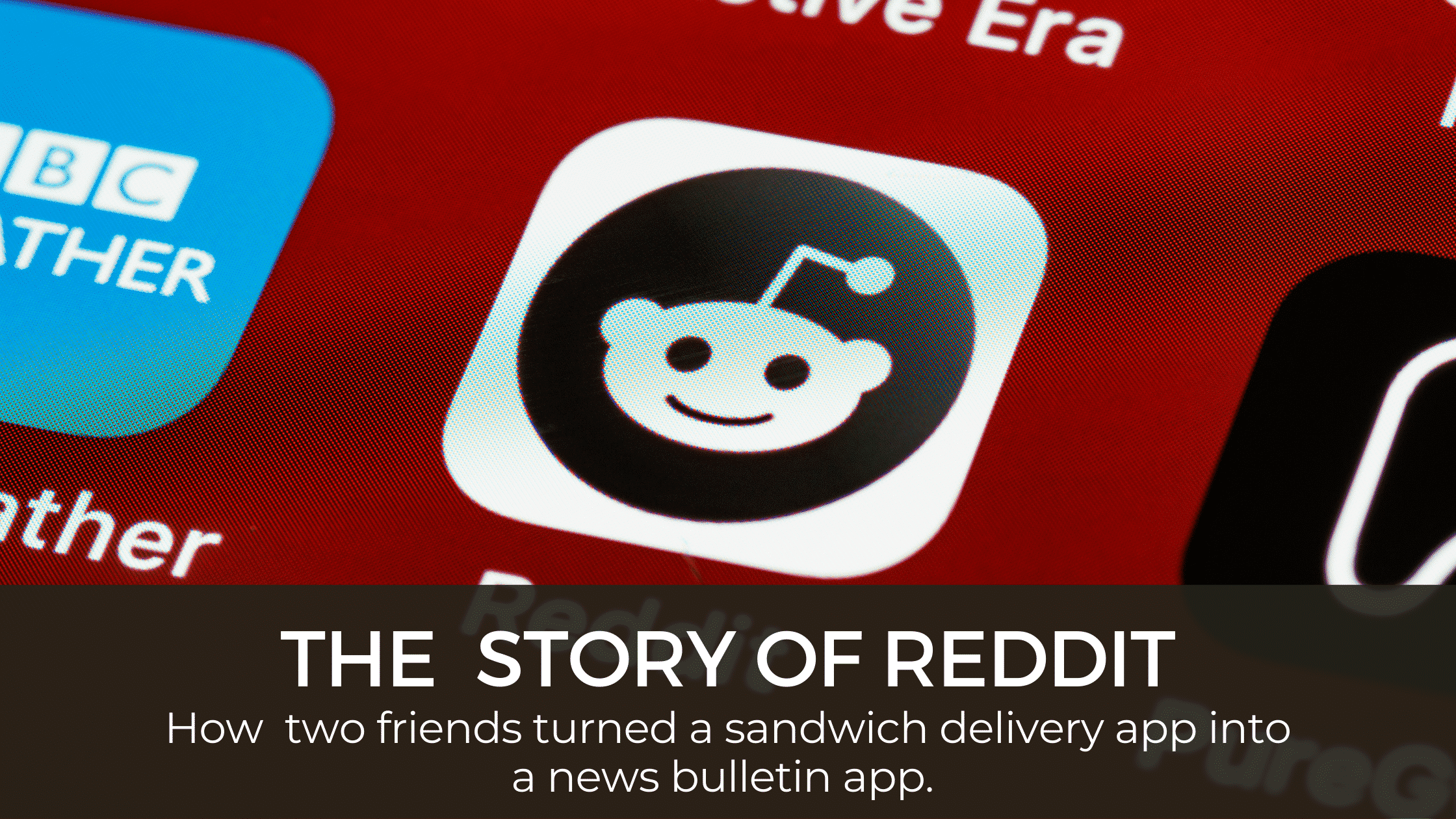 Reddit: How it Became the Front Page of the Internet?
Have you read it?
That's a nice play on words for Reddit, one of the most popular community platforms on the internet. How this uber-awesome platform came about, is a story that deserves to be told in full.
Reddit is the 19th most visited platform on the internet worldwide by traffic. Users browse 150 million pages on it on average every day. If you had to describe it, it is equal times:
A news site
A forum
A social media platform
The story of Reddit is a bit different. It wasn't intended as a product for its time like PCs, iPhones and Google Search was. Rather, it came out of a suggestion from an investment partner.
The Founders of Reddit
The story began in 2005, with two university students Steven Huffman and Alexis Ohanian, who were roommates at the University of Virginia. They had the idea to build an app to order…. sandwiches online. How basic right? But remember this was 2005 when apps were just programs that lived on in your computers. There were no iPhones or Androids with their app store then.
So these two students wanted funding for their idea and approached Y Combinator for it. Alexis and Steve ended up meeting Dr. Paul Graham in the process. Dr. Graham didn't think much of their idea for a sandwich delivery app MyMobileMenu, and promptly turned them down. But he did see that the boys had a lot of promise. Instead of showing them the door, he came up with a suggestion – how about building a news platform that was like a bulletin board?
To their credit, the two boys liked Paul's idea and started to work on it. After securing $100,000 from Paul as seed money, Reddit is founded in Medford, Massachusetts in June 2005.
So, was Reddit a success story? Apparently, yes. Users loved the idea of posting and ranking news content.
In just 16 months since its launch, the platform continued to gain traction by attracting users by the oodles. It was bought by Conde Nast in October 2006 for around $20 million. Not bad for a product that launched a little over a year ago huh?
Some fun factoids:
Reddit has 52 million daily users.
It will have around 1,400 employees by the end of 2021.
It has more than 100,000 active subreddits right now.
About Reddit's financial success:
It is valued at more than $10 billion as of August 2021. 
Steve Huffman Net Worth in 2021: $10 million
Alexis Ohanian Net Worth in 2021: $40 million
Later on, Steven would go on to say that it was a mistake to sell Reddit so early. Hindsight you know? Nobody could've predicted Reddit could explode in popularity to become the self-styled 'front page of the internet.'
Key challenges and how they overcame them
Reddit did gain a lot of traction quickly, some of it due to the fake accounts set up by the co-founders themselves (those were early days you know)!
But to be fair, it is the growing community of users that made Reddit what it is today. Here are some of the key challenges Reddit faced during its time:
Bringing order to the chaos
In the beginning, Reddit was just a list of links curated by its users i.e. Redditors. It was simple, but also unfiltered and messy. It quickly became apparent that there had to be an order to this madness.
The answer came in the form of subreddits. Subreddits are like dedicated channels – and it quickly brought order to the Reddit community. They are manned by moderators for best results.
Subreddits follow a naming convention, like: /r/science for Science.
NSFW? No problem. All the racy and not-safe-for-work content was relegated to its dedicated subreddit. In fact, that was one of the very first subreddits on the platform. It also made Reddit as a whole safer to browse.
The power of community
Having dedicated channels solved a lot of issues. Since it was a feature envisioned to help its loyal communities, the platform decided to go all in. It wanted to do better than just mark news as interesting or uninteresting by users. It wanted to be a community-driven platform.
Features like comments, up and downvotes, awards, etc. were soon added. These features made it akin to a forum and a social media platform. Its popularity exploded as a result. Thanks to these innovations, Reddit continued to add new users organically.
It was only in 2008 that Redditors themselves were given the power to create their own subreddits. But before that, the community had to be cultivated by the platform owners themselves. Their mantra now is to have faith in the communities to uphold the principles of moderation and let everything happen organically.
Grow too fast, and you lose that feeling that you're a part of something special. It becomes hard for members to feel like they belong. – Erik Martin, Reddit's General Manager
The end result? Reddit's community continues to double every year.
Of course, it wasn't smooth sailing all the way. The company continues to build and sanitize its business as it attracts the attention of fund managers. The community self-polices itself to remove racist, misogynist, and controversial content.
Become a household name
Look. It's one thing to be a niche platform that caters to a specific online-savvy demography. It's another thing to be a mainstream giant that is accessible to everyone with an internet connection.
Like most startups, Reddit too had these sorts of growing pains during its journey. So it tapped into the power of celebrities like Nick Offerman and Barack Obama.
The end result? Ask Me Anything (AMA) are a thing now. Some of these AMA interviews are quite humorous and insightful to behold.
Monetization
How does Reddit make its money? Quite a lot of ways in fact.
There are ads. Advertisers can run their ads on specific subreddits or the front page. It can cost anything from $0.75 to $5 per thousand page views. In some hotly contested subreddits, expect to pay even $20,000 to run ads!
Reddit also supports Google Adsense advertisements on the sidebar. It revealed that the bulk of its revenue is made via advertising on the site, with business continuing to grow quickly.
Reddit made $100 million via advertising in Q2Y21, up by 192% last year.
Since this is a community-driven platform, users can give awards to other users. These awards cost Reddit Coins, which you have to buy to support your community.
There's also Reddit Premium, the membership program for Redditors. If you want an ad-free experience and access to a super-secret subreddit, this subscription (which goes for $6 these days) is great. The great thing about this is, that you don't need to buy it to enjoy what Reddit has to offer. Nevertheless, if you want to support the platform and get some perks in the process, it is there.
Redesigned for Everyone
You may have heard the adage – if it ain't broke, don't fix it. But since Reddit was built to serve its community needs, the platform has undergone a lot of redesigns in the process.
Back in 2005, it was built with good old HTML. A lot has changed since then. Now, you can select from 3 different views to experience Reddit:
Card view – this is similar to how Facebook posts appear.

Classic view – Old-school Reddit, with a clean and lean user interface.

Compact view – compressed and designed for quick browsing.
Future Goals
Steve Huffman, the current CEO of Reddit, told the New York Times that:
"We are still planning on going public, but we don't have a firm timeline there yet. All good companies should go public when they can."
It raised an additional $410 million recently, with the final round expected to rise to $700 million. Now valued at more than $10 billion, the future looks rosy for Reddit. It wants to continue to make the site easier and accessible for first-time users. While it isn't anywhere near Facebook's 1.85 billion daily active users, Reddit doesn't want to grow too much too fast.
Its slow-yet-steady approach to enhancing advertising revenue, building involved communities, and hold on to its crown as the 'front page of the internet' are signs that it is interested in sustainable growth.
Reddit was born out of a suggestion, not a way to serve the market. Can its founders continue to man the ship in the same direction?
In the meantime, how about getting lost in some subreddits? Content is king, but good content? That's the Reddit way.