How to Prepare for the Golden Quarter with Effective Digital Marketing Strategies for E-Commerce
E-Commerce marketing strategies for Q4 2021 cannot be discussed in detail without considering 2020's E-Commerce success in the light of a bleak and uncertain future.
The Q4 of 2020 was a defining moment for E-Commerce. Sales rose 32% over 2019 indicating growth with a reported $1.5 billion in sales. Nearly 50% of consumers reported they bought something online they hadn't before. This included household items, food items, groceries, and even home furniture which traditionally was an in-store buying experience.
Despite all the uncertainties, businesses and individuals were investing millions in setting up online stores. Digital marketing experts and influencers released dozens of E-Commerce marketing guides and created aggressive digital marketing strategies for E-Commerce stores to thrive and succeed.
This phenomenal 2020 E-Commerce growth paved the way for 2021's Q4 growth – a quarter that is expected to be one crazy time for E-Commerce stores and businesses. The pandemic has been curbed to some extent with vaccines and people are returning to normal routine inch by inch. The future looks good and so is this quarter's purchasing power.
Preparing Your E-Commerce Store for a Wild Quarter
While 2020 saw an estimated 45% increase in US E-Commerce sales in November and December, the pendulum might swing in favor of in-store shopping especially since people have been wanting to visit stores and return to normalcy again. E-Commerce shopping might see a dip, but, it can still be in your favor if you can prepare well in advance.
E-Commerce of 2021's Q4 of 2021 is expected to:
Grow by 17.9% with an expected spending of $933.30 billion by US consumers (Census Bureau)
In the E-Commerce market, the number of users is expected to amount to 62.1m users by 2025 (Statista)
See behaviors like click-and-collect usage will continue to grow, reaching $140.96 billion in sales by 2024 (eMarketer)
Rise in the UK with online sales making up almost a third (30.2%) of overall retail spending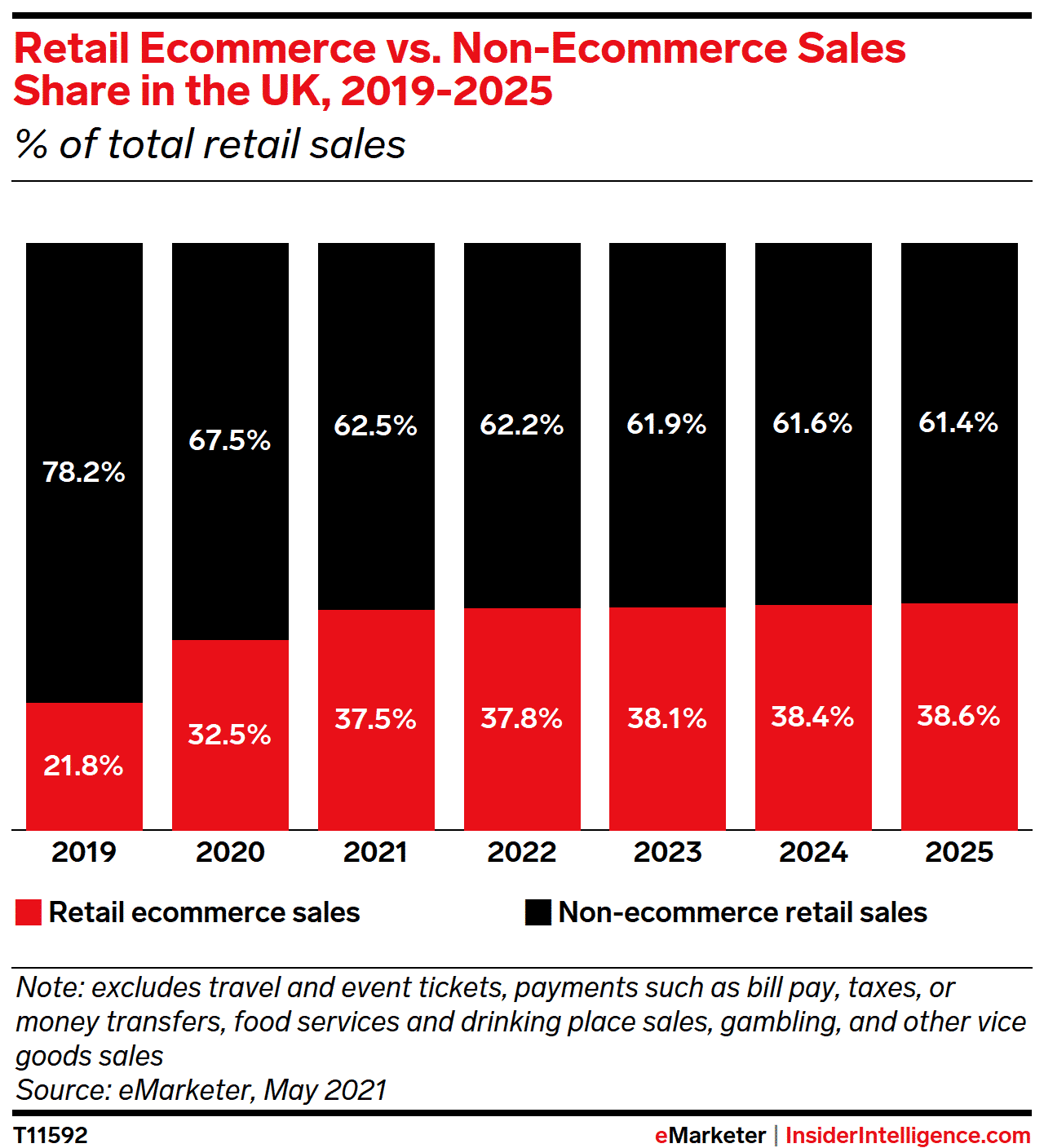 Stats show a positive outcome for Q4, so if you're ready to roll in profit this quarter, here are some essential things you must do to rake in profit.
10 E-Commerce Marketing Strategies to Use for E-Commerce Success in Q4 of 2021
Before we get into E-Commerce digital marketing strategy, here's a list of holidays you can mark in your calendar.
Now, to the next step.
Let's get into the E-Commerce marketing plan that you're here for!
Why Do You Need a Marketing Strategy for E-Commerce?
Because without a marketing strategy, you wouldn't be able to:
>> Bring traffic to your website
>> Convert your visitors into buyers
>> Convert abandoned carts to purchases
>> Convert buyers into loyal brand followers
>> Achieve your monthly and yearly ROI and sales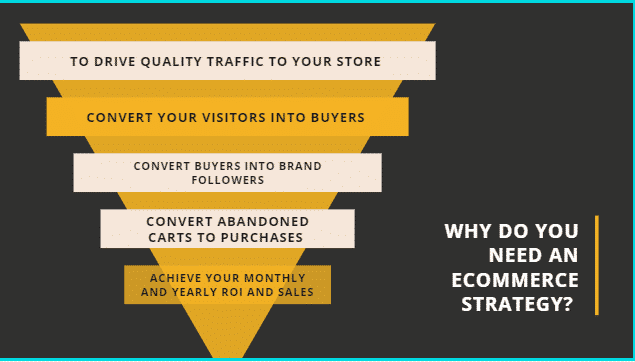 It's quite easy to launch an E-Commerce store, but to have it scale and thrive in an unimaginably wild business landscape is not for the faint of heart.
You will need a combination of different strategies to make it work:
>> An E-Commerce email marketing strategy that targets abandoned cart users, new buyers, previous buyers etc.
>> An E-Commerce digital marketing strategy that tackles paid ads, retargeting and remarketing.
>> An E-Commerce content marketing strategy that tackles video content, product content, website content, social media content.
>> An E-Commerce branding strategy that tackles influencer partnerships and sponsorships, co-brand partnership and much more.
And of course, an E-Commerce SEO strategy that tackles search intent, voice search, long-tail and short-tail keywords and much more.
These ten digital marketing strategies for E-Commerce that I'm giving you here includes all of the above designed for E-Commerce store owners who already have a store up and running and are looking to capitalize on the holidays well in advance.
If you're new to owning an E-Commerce store, I wouldn't recommend you to be a one-man army. You can potentially jeopardize your business if you don't have the right strategy to go by. Make sure you hire the right team members to help you succeed.
So here goes:
1. Campaign Specific Email Marketing Strategy for E-Commerce
Email generates $42 for every $1 spent, which is an astounding 4,200% ROI, making it one of the most effective options available. (Hubspot).
Yet, most E-Commerce businesses do not have a systematic email funnel for their stores.
It's surprisingly simple to create an email funnel plan.
For instance, if you're planning a Halloween campaign, here's how your email strategy should look like:
Series of pre-campaign launch for building up hype. You should be sending at least 4 hype emails, a month in advance of the campaign.
Send out a series of live/launch email at various intervals creating FOMO with discounts, limited time offers, product offers etc. Check out this quick guide on FOMO strategies.
For every sign up, make sure there's a Welcome email followed by a series of upsell emails (do it sparingly though. At least once a week should be enough).
For every abandoned cart, send out a series of discount emails for that particular product.
Here's how your funnel can look like:
See, you can create sets of emails, use an email delivery system like ActiveCampaign or MailChimp to send out scheduled emails.
For the landing page, you can use free landing page builders like Lead Pages where you'll direct visitors to avail a special Halloween discount.
2. How iOS 15 Updates Will Affect Your Email Marketing & What You Can Do About It
The new iOS 15 updates directly impact email marketing just like the iOS 14 updates impacted Facebook advertising.
With the new iOS 15, users will be able to:
Turn off open tracking
Hide their IP addresses
Hide their email addresses: Lets users generate and use unique, random email addresses to forward emails to their personal inboxes. With this option, users can simply create dummy emails for brands to send emails to. In case the brand suffers from any data breach, the user's actual email address remains safe. The emails still go to the user's inbox, so you still will be able to target them – except that you won't know for sure who opened what.
Apple commands up to 58% of the email client market share and a full 90.5% of all mobile email opens happen on an iPhone. This is a significant chunk of the market which means that marketers will lose open rate and IP data for more than half of email recipients.
While there's no workaround to that (save hoping users won't turn off or hide their IPs), you can instead measure click rates vs open rates. It's the click rates that have more value honestly. We will still know click rates, website behavior, and conversions. By looking at customers' purchase history, we'll still be able to create detailed customer segments, and engage with customers in a deeper, more meaningful way than any other channel.
All of this will just make your email strategy stronger and better!
3. Campaign-Specific Content Marketing Strategy – How to Get People to Notice You
A content marketing strategy for E-Commerce is very different than regular content.
You'll need a strong visual strategy to make your content stand out.
Blog posts, articles, etc. are not as effective for E-Commerce stores as much as visual and video content are – unless they are different, controversial, and makes for an interesting read. The Men's Guide to Abortion and In the Honey Badger Brigade: Female Men's Rights Activists Fight for Their Version of Equality from Dollar Shave Club are some of the best examples of branded long-form content.
So for seasonal launches, make sure you've got powerful visuals. Here are some examples of how some E-Commerce stores created a buzz with their gripping content.
Burger King created a creepy commercial with a #ScaryClownNight video:
McDonald's didn't stay far behind with its own McDonalds billboard:
The thing to keep in mind when designing your content marketing campaign is how it integrates with your product, brand, and audience.
For instance, a fashion brand may not find any benefit with infographics.
Or a tech brand may rely more on How-to hacks rather than expensive video commercials.
Some types of effective content marketing ideas for E-Commerce brands:
How-to blog posts
Detailed DIY guides
Video hack content
Product guides & reviews
Customer stories & reviews
Attractive visual content for social media
So for instance, if you're running a Black Friday campaign, you could actually get a video guide (or a blog post) made for the product you're selling. Say you're selling a camera, then a popular guide could be:
How to Choose the Best Camera – Your Black Friday Guide to Buying a DSLR.
You could then use this content as a lead magnet to attract traffic to your landing page/website where visitors can then sign up to read/download the guide. This way they enter your funnel and you can now run campaign-specific campaigns (like the funnel given above).
For your E-Commerce content to be effective, you just need one really good piece of content vs ten different blog posts, videos or images.
Done right, content is one of the best marketing strategies for E-Commerce stores.
4. Invest in Content Distribution and Diverse Social Media Traffic Sources
Creating content is not enough. You'll have to invest significantly in content distribution and that means also making sure you're having diverse social media traffic sources.
Facebook and Instagram are safe options, but you can also tap into TikTok, YouTube and Pinterest. You'll be able to tap into multiple audience segments other than what you usually find on Facebook and Instagram.
Here's a nice content distribution guide by Hubspot that you can use to plan your paid and free content distribution channels.
If this feels overwhelming, you can focus on just specific paid marketing abilities such as:
Retargeting – paid ads to target audiences who have visited your website or social media profiles.
Social ads – don't just focus on Facebook ads. You can also tap into YouTube & Twitter ads.
PPC – Google ads that pop up when someone searches for a keyword relevant to your product.
5. Improve on Customer Experience to Get High Conversion Rates
Even if you do everything right – content, email, social media, paid ads, and everything under the sky…your business can't succeed if you have poor user experience.
50% report they are willing to pay more money for a faster and better experience while shopping online. With 53% of consumers further admitting that they wouldn't buy from the same seller after a bad experience.
Again, improving your customer experience is not rocket science.
Here are things you can do on the digital front to improve your customer experience:
Improve site speed. Slow loading sites mean faster exit rates.
Improve the purchase experience. Don't ask them for too many details. Most people leave the sign-up page when they are asked to fill in too many things.
Don't force people to sign up to make a purchase. Let guest buyers make easy purchases.
Be responsive to chat messages. Don't let customers wait 24 hours for a response.
Have product descriptions that gives customers complete details about the product.
Let your visitors view zoomed in images of your product.
Make sure your store is listed on Google and Facebook.
Make sure you have at least 4.2/5.0 user ratings.
Get your customer experience right and watch your business thrive!
The Roundup – What You Can Do Right Now to Rake in Profit for the Golden Quarter?
With Black Friday, Cyber Monday, Christmas all around the corner, you'll have to ramp up your efforts fast.
Simply sending an email or running an ad before the actual launch isn't going to help.
You'll have to lead people through so that when it's time for action, you are the first place they'll visit.
So here's what you need to boost your Q4 2021 E-commerce business.
Improve website functionality and UI/UX: Check if your website has good loading time. GTMetrix is an amazing tool you can use to measure website or page performance.
Make sure your SEO strategy is optimized for intent: You're probably ranking for, 'best smartwatch 2021,' but imagine if you were able to rank for, 'best Black Friday smartwatch deals,' as well. Prior to the holidays, start pushing out content based on holiday-specific keywords.
Create guides and helpful content: Don't just write 500-word blog posts. Invest time in creating guides or short ebooks that can help your target audience benefit from the product. For instance, a guide on "How to Buy a VR Headset You Won't Regret," can be a powerful lead magnet for your store.
Invest in video and image-based content: You don't have to be a McDonald or a Burger King to create great video content. A simple funny ad, a video message, a customer story, a product journey/story is a great way to attract attention. Once you create the video, run it on YouTube or Facebook ads to build brand awareness.
Create Campaign-Specific: You've written the content but if you're not marketing it or driving traffic to it, the content is useless. Send out emails to your network for the seasonal content you've produced. Partner up with influencers who have had successful seasonal campaigns before and put your brand out there.
Build a Campaign-Specific Email Marketing Funnel: You're probably already sending emails, but general emails won't help you much with holiday campaigns. Go through the email funnel I've given above and plan out your calendar's email funnel.
Measure Click-Rates Instead of Open Rates: With the new iOS updates, measure click-rates as a success parameter as opposed to open rates.
Measure Click-Rates Instead of Open Rates: With the new iOS updates, measure click-rates as a success parameter as opposed to open rates.
Improve Your Customer Experience: Enough said on that. Poor customer experience = poor revenue.
Increase Your Conversion Rates: Your end goal is conversion rates, so whatever you do, always think of how this will help you with conversion rates. Run cart abandon emails. Run social media ads. Write excellent copy. Be innovative. With all of this combined, you'll not only experience a great quarter, but you'll also have a process in place that you can use for all other campaigns.
By following these simple steps, you'll have an E-Commerce marketing strategy in place that will help you tackle major shopping days like Black Friday, Cyber Monday, and the holiday season.
Need help navigating your Q4 E-Commerce strategy? Reach out to us for a free consultation call!