Xiaomi Product Launch Strategy – How to Use Twitter Live to Launch Your Product & Get 5M Views
Xiaomi is the second-largest phone manufacturers in the world owning 16% of the global market share, followed by Apple at 14%. It's rapidly rising the ranks to beat Samsung, which stands at 18% as of 2021.
One of the reasons (among many others) behind its rapid success is its unique product launch strategy. Xiaomi is known to create product launch hype on social channels & eCommerce partners in countries like India and Pakistan.
Its Mi 10 phone launch is the best example of using social media to create hype for your product launch. In fact, if you are launching a new tech product, you can replicate this Xiaomi product launch strategy and get millions of video views & impressions.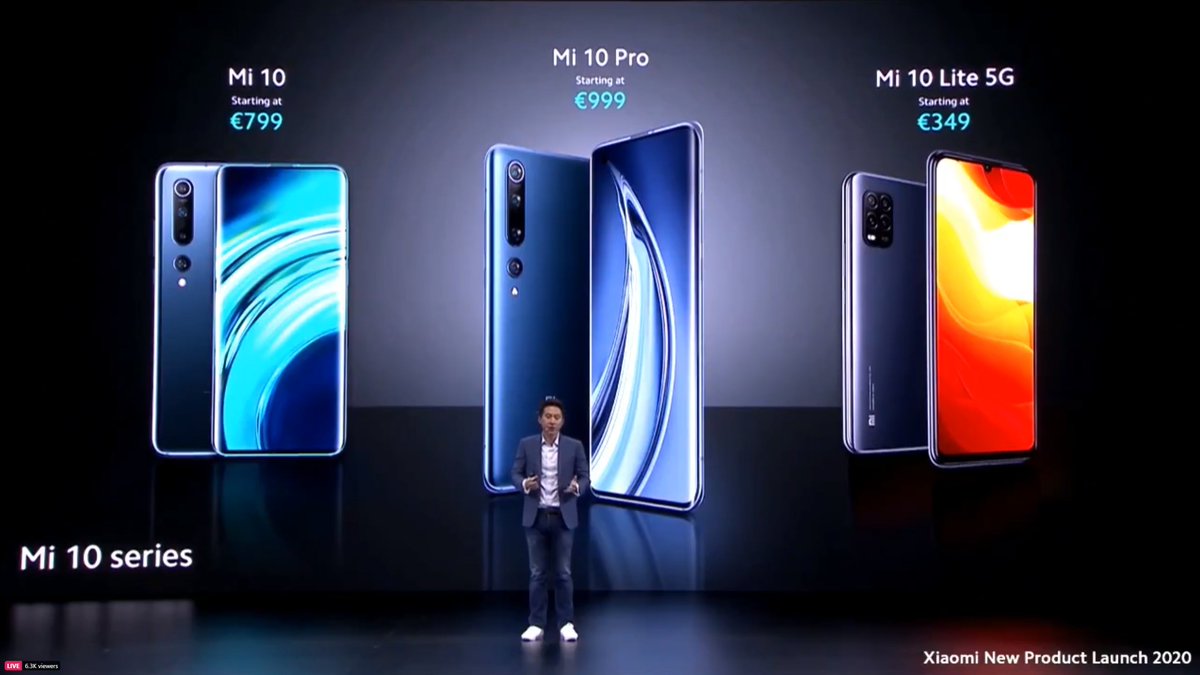 Xiaomi's Mi 10 product launch strategy was so successful, other smartphone brands began copying it!
Here's everything you need to know.
Identifying Your Digital Partner
Like many other brands, Xiaomi had to pivot to digital for its product launch. The Mi 10, initially planned for launch at the Mobile World Congress, was launched on Twitter instead!
Why did Xiaomi choose Twitter for the launch?
Xiaomi had a partnership with Twitter
Xiaomi was aware that Twitter has the strongest tech community
Influencers turn to Twitter to learn/discover the latest about tech
Twitter tech conversations grew 25% YoY to 2.7B in 2019
The pandemic literally drove people & conversations online
Video consumption on social channels exploded during the pandemic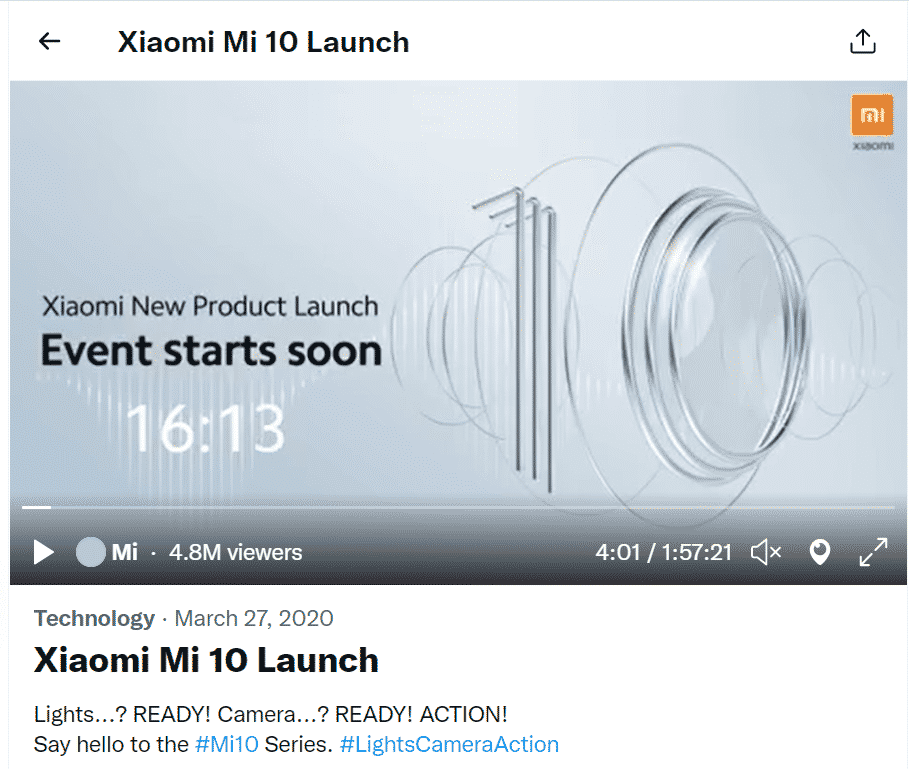 While people don't generally watch videos on Twitter, they do want to be part of a tech launch conversation.
Key Product Launch Strategy Lesson: 
Identify the channel where conversations about your industry, your product happens most actively. If you're a beauty product, launch on Instagram.  A retail store? Launch on Facebook.
Know your digital powerhouses to craft an effective strategy.
Pro-tip: You can identify your powerhouse by finding out where your audience frequents the most. A tool like SparkToro helps you gain audience insights across multiple social platforms. 
Building Anticipation Before Launch
Although Xiaomi already had a strong presence on Twitter with six global handles, it did not just "launch." It built anticipation way in advance of the launch by collaborating with influencer Jonathan Morrison, a leading voice in tech with over 541K followers on Twitter.
The plan was to stream the launch event in over 42 countries using the Twitter Events page which would hold all tweets and retweets of the launch day.
Finally, on launch day, Xiaomi went live on the Twitter Live Event page. To keep the event alive and kicking, a Q&A session was arranged with Morrison and the President of International at Xiaomi, Shou Zi Chew.
The session amplified reach and helped generate conversations about the brand and the phone.
Key Product Strategy Lesson: 
Build anticipation before launch by generating content and conversations
Drive pre-launch conversations by engaging with your audience & letting them do the talking
Collaborate with an influencer who is an authoritative voice in the industry
Pro-Tip: Don't have the budget to involve an influencer? Focus on driving conversations through personal connections. Engage with your community, share valuable content, & build relationships. 
Breaking Through the Noise with Twitter Promoted Trend
Xiaomi amplified event reach by combining the launch with Twitter's paid promotion features; the Promoted Trend Spotlight and First View. The paid promotion, influencer collaboration, fan engagement and conversations resulted in:
24K people watching the live stream
80K brand mentions
50M impressions on Twitter in just 24 hours
4.8M total video views
According to Twitter's internal data source, this was 7.5X higher than previous smartphone launches by Xiaomi on Twitter.
Conversations about Xiaomi on Twitter increased up to 60% YoY in Q1 2020!
Key Product Strategy Lesson: 
While organic marketing is great, you will need to spend on paid promotions to get amplified reach! But you have to do it strategically to drive people through the funnel to finally create that boom!
Pro-tip: Always build a top, middle, bottom-funnel when you're doing the paid promotion for a new product. Start with awareness (a video about the problem/solution), generate interest (a post about your brand), create desire (an early bird discount offer), and finally a CTA for action (Buy Now!). 
Want to launch your product and need strategic help? Reach out to us and see how we can help you with a 7-figure product launch to niche markets!