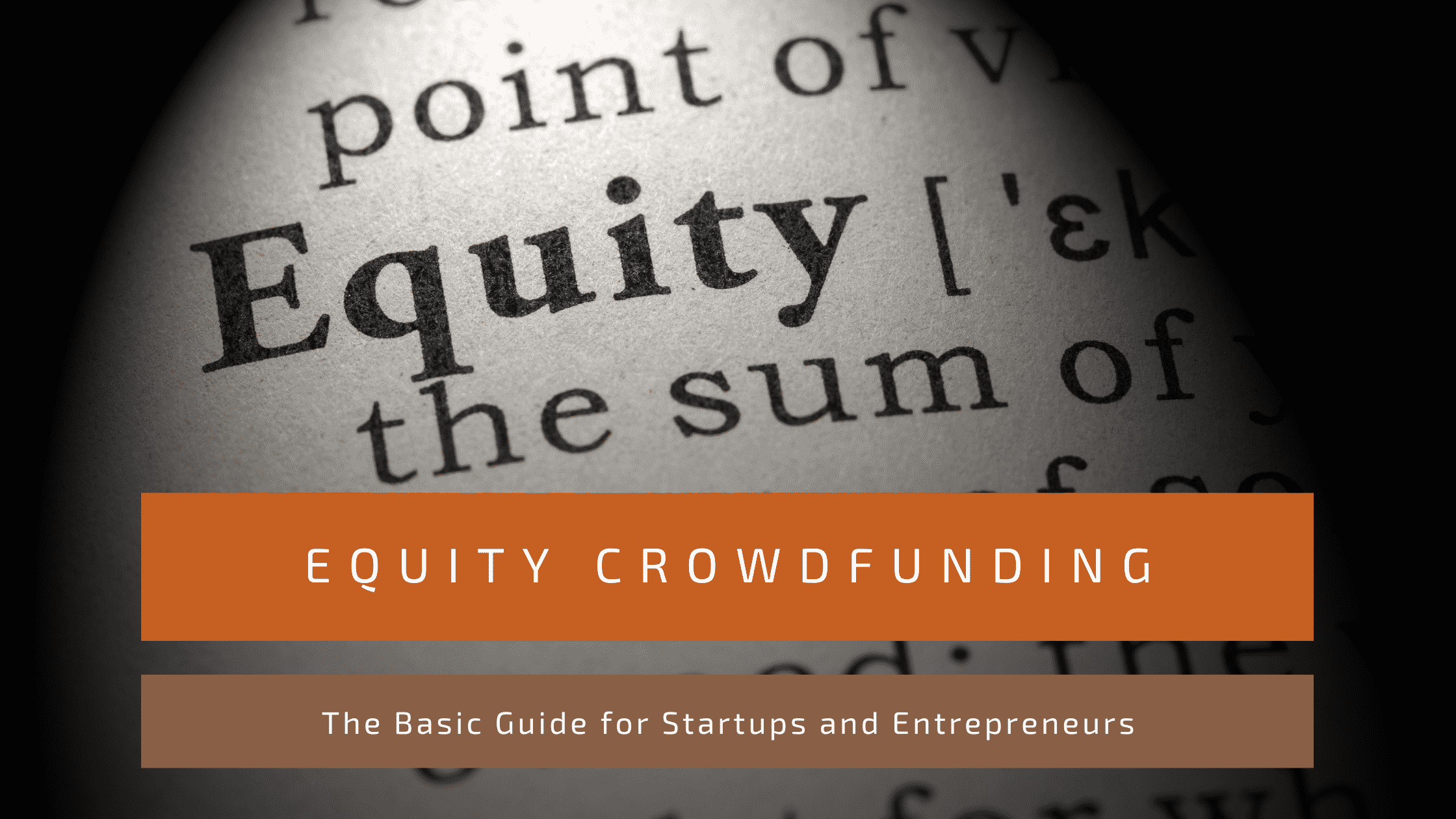 The Complete Guide on Equity Crowdfunding for Startups
Equity crowdfunding is the future of small business and startup funding.
Equity crowdfunding for eCommerce is enabling a new era of product innovation.
But what is equity crowdfunding and why is it one of the fastest-growing forms of crowdfunding?
You'll find everything you need in this guide.
What is Equity Crowdfunding?
Equity crowdfunding is a form of crowdfunding where investors receive shares or units in the company with benefits such as the right to vote at meetings or receiving dividends out of the company's profits (if declared).
How is this different from regular crowdfunding?
Investors in equity crowdfunding are the common man. Anyone with money and a good eye to detect potential businesses or startups can join an equity crowdfunding platform and invest in a startup of choice.
Here's a simplified version of the equity crowdfunding ecosystem.
Let's examine this system.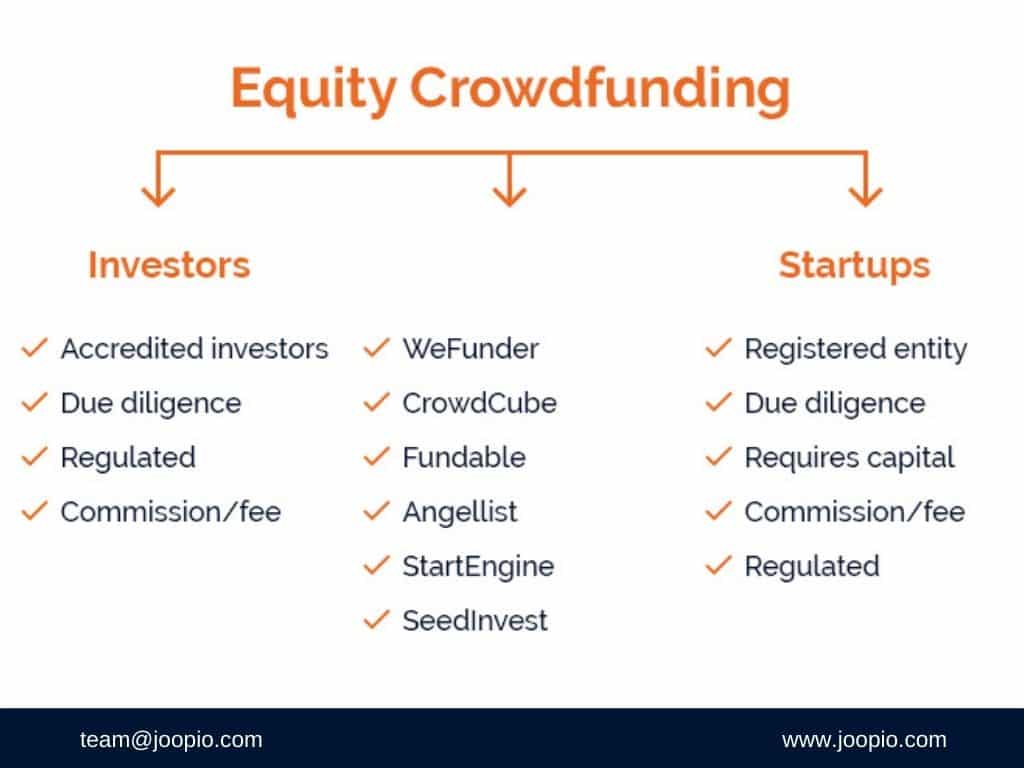 The Three Major Components of Equity Crowdfunding
The equity crowdfunding model has three components.
1. The Platform
Equity crowdfunding platforms or portals are centralized platforms that bring companies and investors together.
They allow creators/founders to pitch to investors who in turn choose to invest in the project after reviewing the profile and pitch of the founder.
All leverage the benefits of the JOBS Act and Regulation A+ which makes it easy for private companies to seek access to public markets during their early growth years.
Investors need to provide their identity, income, and asset verification to register with the platform and participate in listed companies' funding rounds.
Equity crowdfunding platforms make money by taking a percentage of the money raised during the course of the project. The percentage varies, but it's mostly only up to 5% of the total amount raised.
2. The Investors
There are two types of investors:
Accredited Investors: People who are deemed by securities commissions to be high net worth individuals who will not be significantly impacted if the invested project fails. Qualifications of accredited investors depend on parameters and rules set by the respective country.
Non-Accredited Investors: The general public who are not accredited investors.
An investor can invest in one or multiple projects at a time.
A study by CrowdFund Capital Advisors 2020, revealed that typically 80% of the investors are accredited and 20% are non-accredited which means startups have an opportunity to pitch to hundreds of high profile individuals.
3. The Company
The company is usually a startup that sets up a crowdfunding campaign lasting anywhere from 60 to 90 days during which they attract potential investors.
Companies with demonstrated evidence of:
Having a scalable product
A high growth potential
Previous successful exits or IPOs
Satisfied customer base
… qualify for equity crowdfunding.
In a nutshell, equity crowdfunding is a new method of seeking finance that allows companies of all sizes to raise funds through secure online platforms, giving them direct access to qualified investors.
Why Equity Crowdfunding? Why Not Banks, VCs or Private Investors?
In the words of Bob Hope, "A bank is a place that will lend you money, if you can prove that you don't need it."
Startups and growing companies do not have it easy. They are almost always turned away from investors and venture capitalists – or they are only given funding if the VC has an alternate idea that the founders must act on if they want to run a startup.
As far as banks are considered, you need to have at least 3 years of operating history or it should have proof of scalability with limited risks.
The founder has to be perfect; not too old, too young, too fresh, too overconfident. And they should have a degree.
All these constraints make it difficult for startups and founders even with provable sales to get funding.
This is where technological and legal changes have led to methods like crowdfunding where startups can reach out to the public for funds.
Startups can bypass financial barriers that they've had to kowtow to for so long.
Thanks to equity crowdfunding sites, startups can access a diverse pool of investors; both accredited and non-accredited.
People can invest in as little as $100 or as much as $10,000 with each platform having its own rules, limitations, and processes to follow.
What are Some of the Top Equity Crowdfunding Sites of 2021
Equity crowdfunding sites or platforms are rising, considering the fact that it's growing in popularity. There are around 50+ registered crowdfunding platforms!
They range from super-private communities to open platforms. Some cater to early-stage (REG CF) while some are better for later-stage (REG A+) startups.
What is Early-Stage (Reg CF) Startup?
In 2016, The Jumpstart Our Business Startups Act JOBS Act enabled startups and early-stage companies to raise money through the Regulation CF which is a type offering allowing private companies to raise up to $5 million from everyone (accredited & non-accredited investors).
What is Later Stage (Reg A+) Startup?
The Regulation A+ of JOBS Act is an offering where private companies can raise up to $50 million from the public.
Reg A+ lets companies offer shares to the public not just to accredited investors. Regulation A+ can be thought of as an alternative to a small, registered IPO.
If you want to tap into equity crowdfunding, here are the top five platforms you can look into.

Choosing the right platform depends on a number of factors, ranging from your goals to your scalability plans.
Before you start with the crowdfunding platform, you might want to consult with an equity crowdfunding specialist (preferably from a person in the platform of your choice) so you may know if you qualify.
What are Some Equity Funding Pros and Cons – For Startup Founders

Equity crowdfunding sounds like a great opportunity to raise money for your startup, but it's not easy to get your project accepted or funded.
There are some serious pros and cons of equity crowdfunding to consider before you move ahead.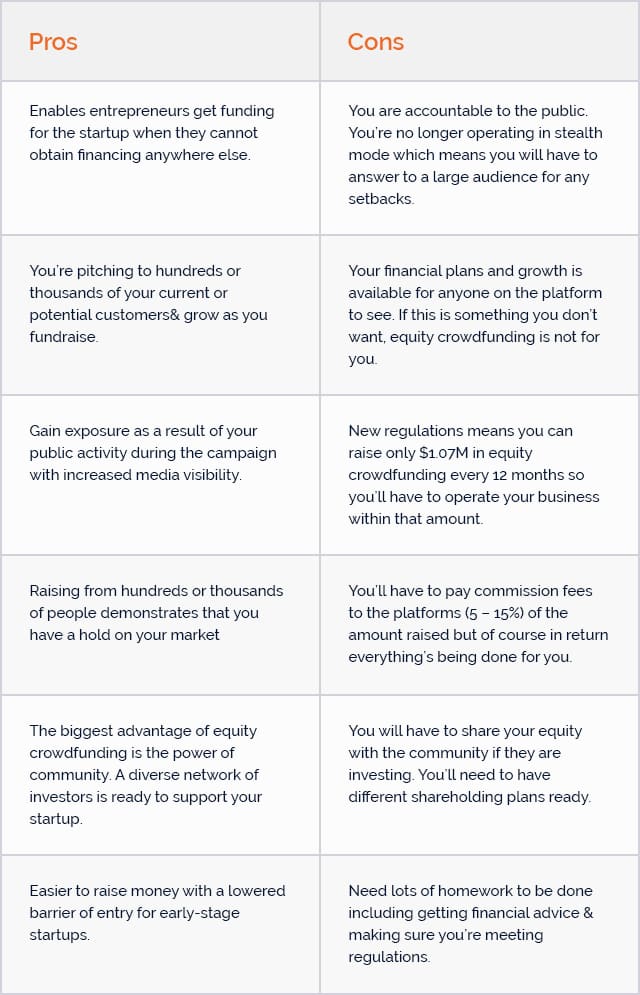 How to Get Started with Equity Crowdfunding
If you decide to go with equity crowdfunding, here's what you need to do to get started.
1. Do a Thorough Homework:

This goes without saying, but, when you choose to run an equity crowdfunding campaign, you'll need to be very clear on what you want, who you want to attract (only accredited or both kind of investors), and the capital amount you'll need to make your product a success.
2. Choose a Platform:

Again, depending on the type of investors you want to attract, you'll choose a platform that meets your requirements. Here's a list of factors to assess when choosing a platform.
Additional factors you must look out for when choosing a platform include:
Total amount raised by the sites
Number of campaigns
Types of startups facilitated (Reg CF or Reg A+)
Platform fees
Discounts on fees
The due diligence process
Funding history
Success stories of the platforms
Highest capital amount raised
Active investors list
3. Start Preparing for Crowdfunding:

The first thing to do is to get your corporate information in order.

Record all the information the equity crowdfunding platform will require from you and make sure you have a business plan, pitch deck, shareholders agreement, financial projections, and legal documentation ready.
All this information will be essential at the time the portal will review your campaign. Make sure you follow all their requirements for due diligence.
4. Hire an Equity Crowdfunding Marketing Agency to Build Social Footprint:

Ideally, you should be doing this before submitting your campaign to the portal. Twitter, Facebook, YouTube, Insta, LinkedIn are all the platforms you'll need to be visible and active on.
You might also want to run Facebook ads to attract non-accredited investors.
If you don't have a marketing team that's aware of equity crowdfunding, you'll need to hire a specialized equity crowdfunding marketing agency to help you with essential items like:
Preparing a pitch deck
Preparing a pitch video
Landing pages and emails
Influencer partnerships
Video and strategic content
PR & media buying
5. Focus on Brand Building
Because you're going public with equity crowdfunding, brand building is extremely important. Start sharing stories about the founder, the team, and the impact your startup is making on the world.
Generate thought leadership content and continue building valuable relationships with your audience and investors.
What do Equity Crowdfunding Portals Want from You to Attract Investors?
Here's a list of what every equity crowdfunding portal (some may require more or less than the list below) would want from you to attract investors.
1. Your Corporate Records (shareholder information, capitalization structure, documentations etc).
2. Financial Records (financial records, projected revenues, costs, profits, cash flow, balance sheets).
3. Background Checks (of all team members, directors, and shareholders with 10% holding).
4. Business Plan (executive summary, term sheets, current growth, future plans etc)
5. Investment Documents (term sheet, subscription agreement, investor deck)
6. Campaign Video (A video about your company and product)
7. Digital Media (website, landing pages, social media, PR strategy)
If you're pitching to high-equity sites like MicroVentures, investors may want additional documents like an elevator pitch, cover letter, certificate of incorporation etc.
You'll be engaging your legal, marketing, and finance teams to make the launch a success.
How Does the Process Work?
Once you submit the campaign, and the platform is satisfied with all the information you've provided them, your campaign will be made visible to investors.
You will have to specify the minimum and maximum capital requirements for the company and what you intend to do with the funds.
Your campaign will be available on the site for 30 – 90 days. During this time, the portal will do its own marketing to promote your product – but, it's crucial that you do your own marketing too.
It's an acknowledged fact that people most active on the portal and on social media have higher chances of success.
Remember, you're building a community and not just "hunting" for investors.
Investors registered on the platform regularly browse through the list of new startups and use their own experience and judgment to engage with startups of interest.
When an investor finds an opportunity, they want to invest, they will submit their interest. The portal will do its own due diligence on investors, then decide whether the investor qualifies.
Depending on the portal and the country, the portal will require the investor to submit funds in escrow.
The funds are not released until the company has completed its minimum offering requirements.
After a successful offering, the portal will allow the investor to access closing information.
And finally, the investor and company owner can begin their interaction.
In case the funds are not raised as stated, the campaign closes, and the amount is returned to investors.
How to Make Your Equity Crowdfunding Campaign a Success?
Now that's a million-dollar question, isn't it?
But don't worry. You don't have to take a wild guess.
Every successful campaign on an equity crowdfunding site had the following attributes that made them successful.
1. Setting the Right Goals and Expectations
It's not uncommon to see founders make the classic mistake of setting a higher, almost unattainable goal.
So how do you know what's the right evaluation or goal to set?
Generally, you should set the amount based on your business plan, your manufacturing/shipping costs, operational costs, etc PLUS a contingency amount to cover unexpected costs during the launch of your campaign.
2. Working on the Perfect Pitch
The pitch defines the success of your product, so when you're creating the pitch, make sure you're giving accurate information which includes:
Your company story and information on the team
Your product offering and WHY people should invest
Why you started the business
Why you think your company will be successful
What your future plans and projections are
Your digital presence
Your PR strategy
3. Have Strong Marketing Support
Your equity crowdfunding campaign relies heavily on effective marketing. You'll have to work on PR strategies, social media footprint, and generating buzz.
The stronger your marketing, the more attractive and credible you will be to investors. Without the right copywriting and marketing strategy, you will be having significant challenges with product positioning and if that struggles, your investor might feel reluctant to invest.
4. Build Your Audience
You'll need to build a community and an audience. If the audience is missing, you'll need to run Facebook ads or Google ads to attract people to your group or landing page.
Having the right audience support is fundamental to the success of your campaign.
5. Partnering Up with an Equity Crowdfunding Marketing Agency
Equity crowdfunding marketing agencies have experienced copywriters, strategists and PR contacts who will help you create viral content.
And lastly, a crowdfunding marketing agency can take the load off you helping you focus on building the business and doing the more important groundwork.
Closing
Equity crowdfunding raised more than $239 Million in 2020 and is expected to rise significantly, especially since now people are more aware and are turning towards unconventional funding.
So if you're a product that has some success in the market, but you need more funding to scale or expand, equity crowdfunding might be something you want to be interested in.