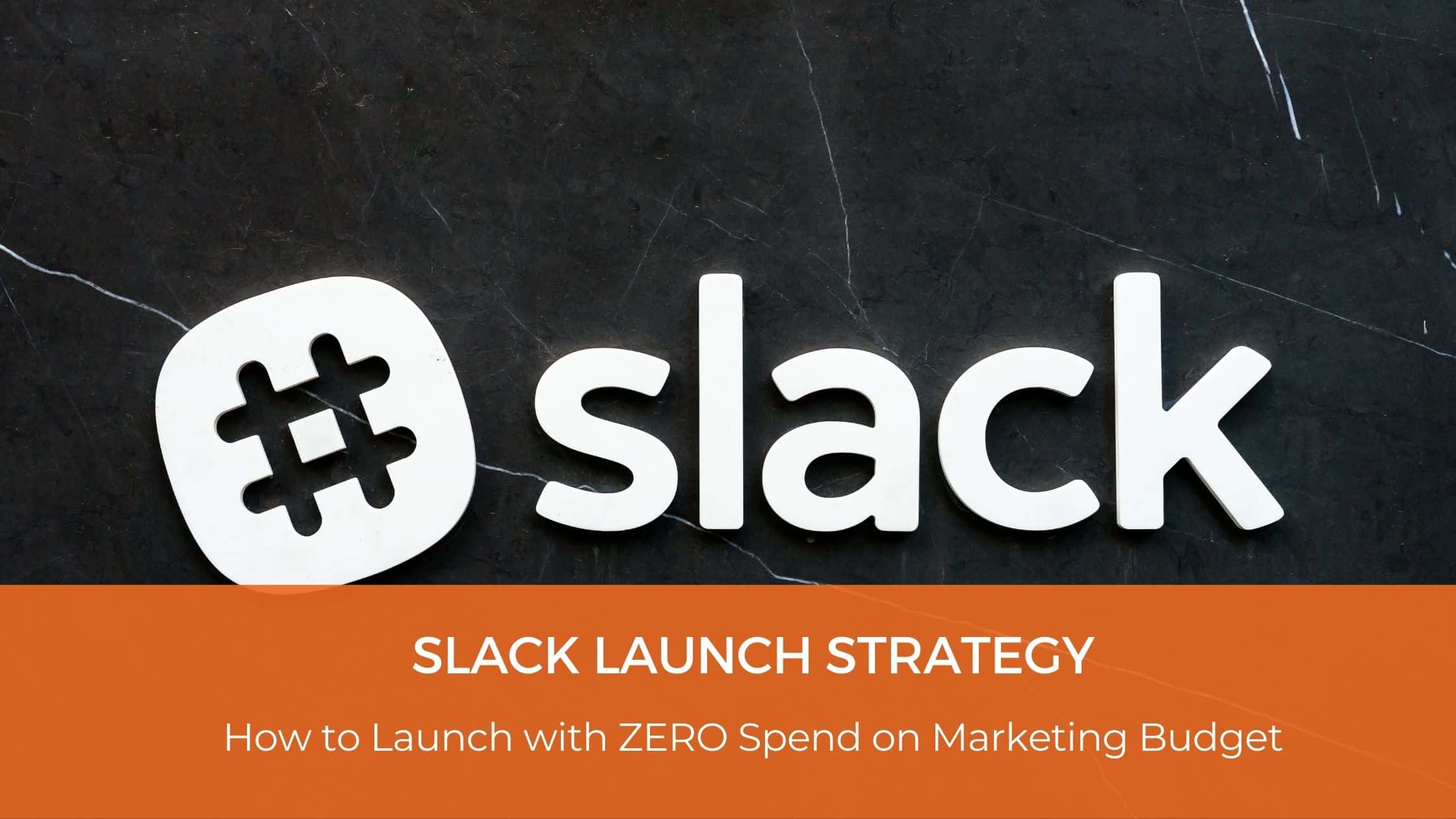 Slack Proves You Don't Need a Million-Dollar Marketing Campaign to Launch a Great Product
There's always this debate (and a lot of aggressive responses from marketers) that a product needs to have GREAT marketing to scale – regardless of whether the product is bad or good.
As a marketing agency ourselves, we know all too well the effect marketing has on a product launch. But we're also bold enough to make a radical statement – you don't always need to hire a multi-million-dollar CMO or spend hundreds of thousands of dollars in marketing campaigns to launch your product to stellar success.
And Slack is just the proof we need that a great product *CAN* market itself.
So what did Slack do?
A quick breakdown.
Focusing on Product Features & Getting Feedback
Most founders make the mistake of launching a product straight off the shelf, then spending hundreds of thousands of dollars in trying to market it.
But Slack had a different approach.
Founder Stewart Butterfield focused entirely on developing his product's features and running it through multiple tests where he would get feedback from real professionals.
It was through this continuous testing that they figured out the product didn't quite do its job if it was used by a larger team of more than 100 people.
Armed with user-testing observations, Slack made drastic changes to the product then restarted the testing process all over again.
Seven months from when they started, they were ready to go public with their beta release.
Key Lesson:
Don't just launch a product and call it a day.
Identify ideal customer personas, reach out to them for user testing, record observations and look at your product from the customer's standpoint. Invest your time in making your product ready for your ideal customer base. Don't ignore significant challenges just because you'll be 'improving' the product later.
Make your preview/beta release count.
Get the Right People to Test Your Product & Give Constructive Feedback
Instead of asking your friend from college to 'check out' your product, engage with people for who the product is designed for.
Form a user test group and give them an incentive to test your product before the beta release phase.
You might be tempted to ask your team members or friends and family to do the testing, but that doesn't really help you understand how the product will perform in the environment/setting it was designed for.
Slack didn't just ask random people to test their product. The founder reached out to friends who were professionals at other companies to test the product and give feedback. There were some six to ten companies that began using Slack.
Rdio, a music service was one of the companies that used Slack at first with just a small group of developers. Gradually it spread to the whole engineering department and finally to all 120 people in the company. At that point, Slack realized the tool looked very 'gnarly' from the perspective of a much larger team.
Key Lesson:
The right people can share insightful feedback that you need to make your product viable for the public.
Use Whatever You've Got for You
We know.
You want to hire the best marketer.
You want to spend thousands on paid press releases.
You want the launch to be a dazzling event with thousands of signups.
But you're also short on budget. Or worse, you might need to take a loan to do all that marketing.
OR
You could do it like Slack.
Use what you've got.
Once Slack was prepared for the preview release (they named it preview release instead of beta release because they didn't want to sound flaky), the team worked on a press strategy using their own experience and contacts.
The idea was to welcome people to try Slack for free.
On the first day of the release, 8,000 people signed up. Two weeks later, it was 15,000 people.
Key Lesson:
Don't splurge money. Work with what you've got and focused on building good connections.
Plan before the Launch Event
Slack didn't send out pitches to editors two weeks before launch.
It spent time building connections, establishing relationships, and planning in advance.
Most founders we've come across don't spend time nurturing these relationships.
They'd just go in, spend thousands on ads, paid press releases, paid articles, and whatnot to get the word out.
Why throw away money when you can spend time to really build quality relationships?
The question is how. Here's what we recommend:
Identify the channel you're most popular on. LinkedIn, Twitter, Facebook, TikTok, wherever it is your audience is most receptive to you.
Start sharing your story, journey, failures, and achievements on those channels. There are plenty of founders who have documented their success with a Twitter strategy.
Get involved. Attend webinars or create one. Attend talk sessions. Hang out with people for coffee. Real-time connections drive online relationships.
Tap into traditional media. Digital is all great, but traditional media like the radio, magazines and printed brochures can also help people recognize you.
Always plan 12 months in advance of launch. Yep, that may sound like a really long time but the more well prepared you are before launch, the higher your chances of reaching the right people.
Key Lesson:
Develop relationships, plan six – 12 months in advance, and make use of traditional media.
Content Distribution & Sharing is Key!
According to Butterfield, it doesn't end when an article is published. You've got to keep the momentum going.
20% is just the media posting.
80% is people posting about that article.
People almost never go to news sites, but they care about what their network is sharing. It's the social sharing and content distribution that you must aim for.
So don't just stop at a PR article.
Use that PR article in:
An email broadcast
Social media posts
Getting the team to share it on their socials
Making an announcement on your social channels
Keeping the talk going for at least a week and more until launch day.
Key Lesson:
Leverage social media. Keep the communication on and keep sharing your content.
Educate Users & Focus on Product Positioning
When Slack started out, it focused heavily on educating users about the product and how it could help make workplace communication faster, better, more focused, and effective than other platforms.
At the time, channels like Skype & Hangouts were the preferred communication platforms. People did find Slack challenging at first – what with its different channels and inability to make calls etc.
Slack positioned its product, not as another chat tool, but a collaboration software, one where people could optimize their communication by creating different channels (which were essential different departments/projects) and easily send files, etc.
It didn't attempt to compete with other platforms. It was creating a new arena completely and so it focused on product training and market education.
Around 70 – 80% of people were using multiple channel platforms: emails, group chats, SMS, messengers; essentially broken communication channels that made it a lot harder to be effective.
Slack focused on educating people on this issue and positioned Slack as a better solution.
Key Lesson:
Don't assume your users know what they want. Teach your users how your product solves a problem for them.
Other Key Things that Slack Did Right:
Responding to every email and resolving every ticket.
Monitoring all social media channels for brand mentions good or bad.
Focusing on customer service resolving around 8,000 Zendesk tickets a month.
Do a few things really well and the rest will take care of itself.
Improving and adding new product features based on user experience & feedback.
Amplifying what makes your company or product special.
Over time Slack proved that focusing on a great product, educating/connecting with their customer base, and constantly refining their product while keeping the communication active defined their success. Slack didn't have integrated marketing campaigns, didn't onboard a CMO, and didn't have any elaborate strategies – yet achieved phenomenal growth only because they focused on product excellence.
If you're launching a new product and don't have the budget to hire a CMO or build a marketing powerhouse, focus on a communication and engagement strategy with your audience and peers.