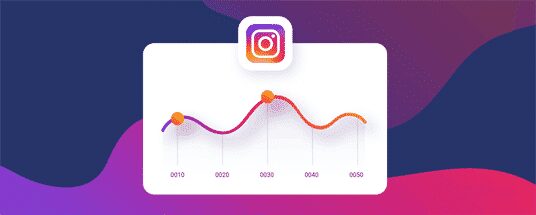 Instagram is a photo-sharing app that was introduced in 2010. It is a social network where people can share pictures and videos.
In 2012 Instagram was bought by Facebook for $1billion.  Recently Instagram added new features such as live streaming and stories. It has over 300 million active users daily.
Instagram Marketing has been used by businesses to engage with Instagram users and to promote different websites, products, services.
Instagram marketing can be very rewarding if used correctly. In this article, we are going to show you how Instagram can help your business grow.
Hashtags
Hashtags are used to describe a particular picture and put that picture along with similar pictures that were uploaded by other users. For example, if you are a business that sells cars, you would use the "#cars" or "#carforsale" under the picture or video that you upload it.
This will add your picture to all the pictures added by other users who used the same hashtag. If a customer searches for #carforsale, that customer will then see your picture.
Hashtags should be used only to describe whatever you uploaded, it has to be relevant to the customer can then visit your Instagram page. Try avoiding using hashtags that are heavily used by other Instagram users because your post might not be noticed.
Sharing
Instagram is a great way to promote your business and upload pictures and videos of your products, services. You should connect your Instagram account with your other social media channels.
This will enable people who don't follow you or people who don't have Instagram to view your uploads. You can also add Instagram posts to your website if you wish, this can increase your brand credibility and engage customers.
Pictures/Videos
You should upload pictures or videos on your Instagram page daily. This will make your posts show up more often on the follower's home page and raise awareness of your brand.
Make sure that your posts are relevant to your brand and only use high-quality images or HD videos. This is very important because a lot of users tend to ignore low-quality posts.
Some of your posts should also try and engage your followers into liking, commenting or share your posts on their pages. This will give the impression that you are willing to be personal and care about what the customer's views.
For example, you can ask customers to comment on what they think of the product you posted or ask them to comment if they have bought it. This will create a personal connection between your brand and customers, which is very important.
Promotions
A great way to use Instagram is to offer exclusive discounts or promotions to your followers. This will be a great way to increase new followers and customers. For example, you can give your Instagram followers a discount code that they can use to buy your product or service.
Instagram Ads
Instagram also offers you the option of using paid ads to promote your posts or Instagram page. It gives you the option of specifically targeting the right segment that you want to reach.
You can use Instagram Ads directly from your Instagram App or through Facebook Ad Manager.
The posts that you promote using this Ad feature will appear on the main feed of people you choose to target. The post will have a "sponsored" label next to it.
There are different formats that can be used for your Instagram Ad:
Photo Ads

Video Ads

Carousel: Carousel ads are the same as photo ads but allow you to add a number of images so people who view it can swipe through it.
You can choose your objective from the ads you post, for example, if you want people to visit your site, Instagram will add a link to your site on the Ad and when people click on it, it will take them to your website page. Other objectives include video views, App installation, brand awareness.
Instagram tips
Avoid putting links in the description or comment because they don't work. The only place you can place a link in the bio section.

Make sure that you like or comment back if any user has gone out of their way to comment on your post. Interacting with customers is vital and will increase brand loyalty.

Give your followers exclusive information or behind the scene images/videos.  This will show your followers what is going on behind the scene and get them more connected to the brand.

Geotagging: If you run a local business or you just want to share your location with your followers, you can use the geotagging feature.
Conclusion
Instagram marketing can be very beneficial in growing your business. With the popularity of social media marketing, Instagram can increase your customers, brand awareness and customer loyalty.  
If you find that your Instagram marketing is not reaching the right audience, be sure to invest in Instagram ads to target the right segment for your business. Engage with your current followers and offer promotions.