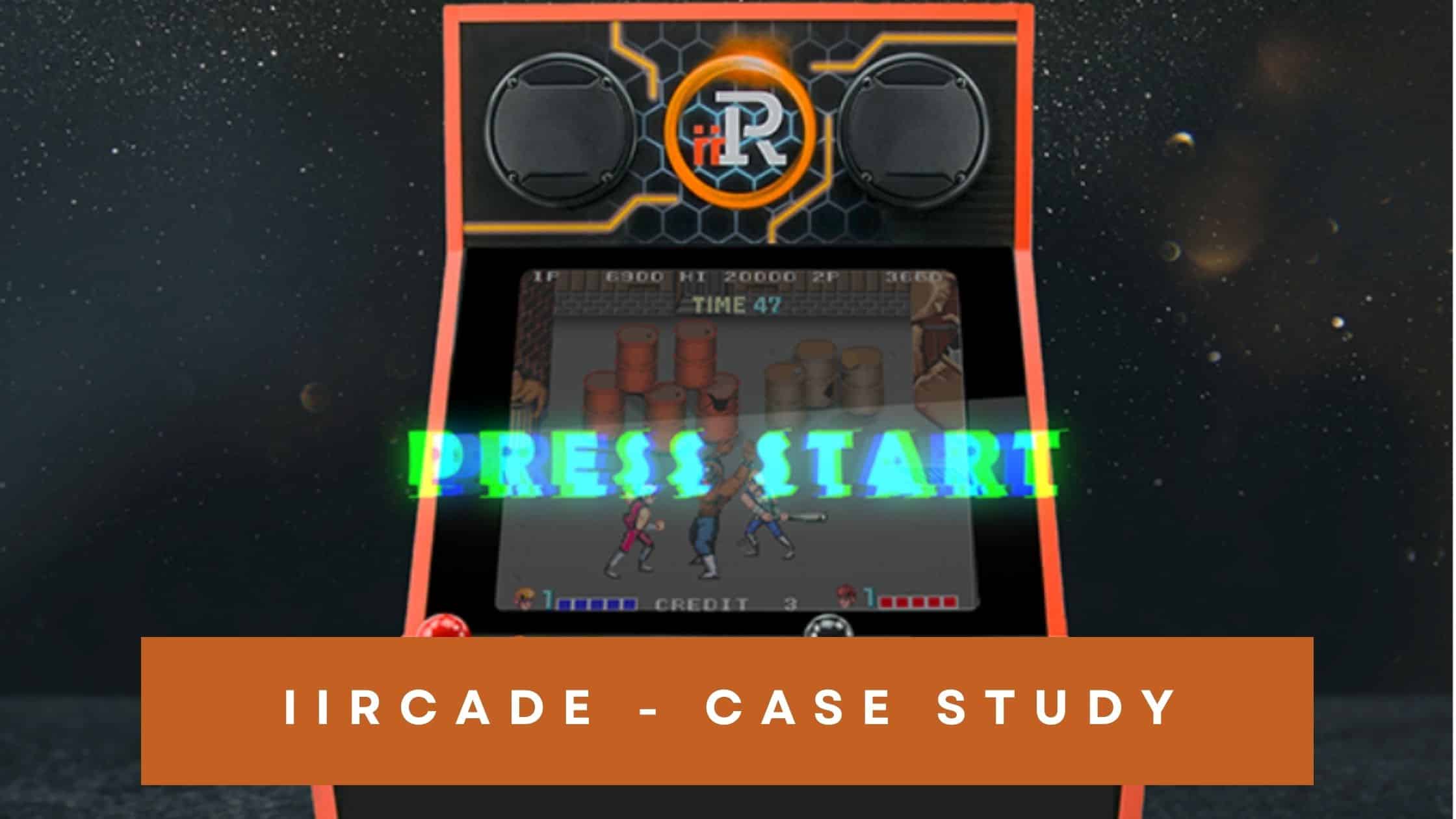 How We Raised $660,413 for iiRcade on Kickstarter During a Pandemic
Imagine having a cool, retro gaming arcade right in the corner of your room! And imagine playing your favorite SEGA games with your kids and family almost like being in a video arcade center.
About the Product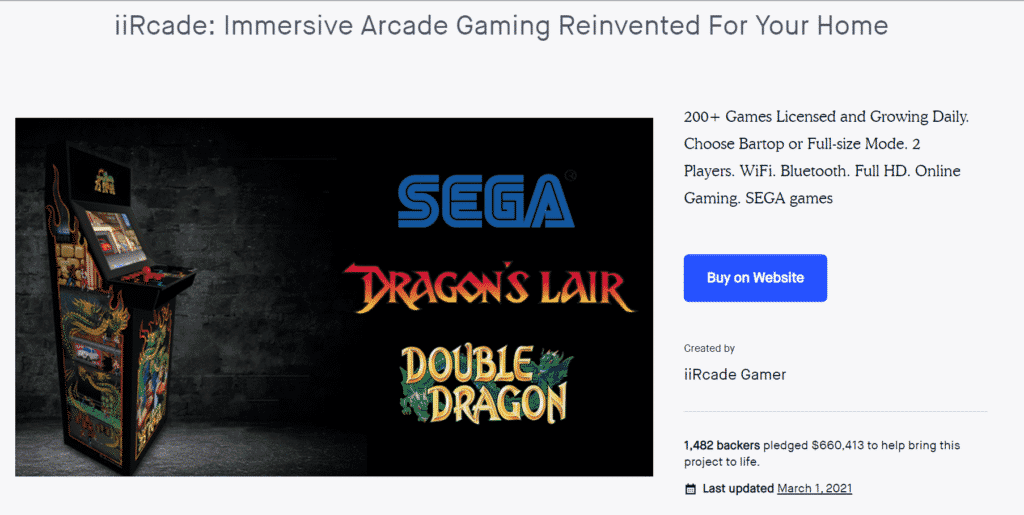 The iiRcade is built by gamers for gamers, a sleek, retro but futuristic look that packs gaming fun into one cabinet:
Get new games from an ever-growing list of the officially licensed game library Targeting 200+ games licensed by launch
Powerful premium hardware brings immersive arcade experience into your home
Convertible as Bartop or Full-Sized arcade machine with an optional stand
Small enough for the home, yet big enough for the full arcade gaming experience
Never-before-seen experiences that will surprise and delight
11 Games included with each console pre-installed + hundreds available to download from the iiRcade marketplace from $2.99 per title.
Using the iiRcade app store, you simply purchase a new game on your phone. iiRcade will automatically download and install your new game on your iiRcade game machine, without you having to do anything else.
You can check out their campaign here and if you like it, you can order it on their website!
The Challenge
The iiRcade is not your regular crowdfunding product. It's a full-fledged arcade machine that is supposed to be placed in people's homes instead of at an entertainment center. It starts from $399 + shipment fees.
To make it even more difficult, the iiRcade was setting itself up against the ease of PC gaming. People could easily download these games or visit an arcade center.
So we faced three challenges with iiRcade:
Justifying the need for buying an arcade machine for home use
Justifying the high cost + shipment to fulfill that need
Building credibility & selling the future vision of the product
But none of us were prepared for the biggest challenge of all – the pandemic.
By the time the pandemic hit, we had been come too far to back out.
Yet, in the midst of all the chaos and a tumbling global economy, the iiRcade was able to raise 6-figures.
While we had to formulate a special strategy for the product, with the pandemic, we had to double down on it and make sure backers were kept updated with shipment & technical challenges caused by the pandemic.
Here's a step-by-step breakdown for how we got iiRcade to make a $1M even during a pandemic.
Rolling Our Sleeves – Starting Out by Getting the Basics Right
Like any other crowdfunding project, we start with the basics.
We work on building a funnel, product positioning, messaging, market validation tests and email marketing to generate thousands of leads that would eventually become backers and community members.
Four things we did before lead generation were:
1. Building a Funnel that Focused on Credibility
Most crowdfunding products (especially if they are low cost) are easier to promote. With an expensive and bulky product like iiRcade, the usual strategy just wouldn't cut it.
For a product of this size to really hit it off with customers, you need to build a lot of credibility to justify the price point & the need.
The funnel we designed for iiRcade prioritized communication & credibility building which eventually led to a stellar crowdfunding success for the brand.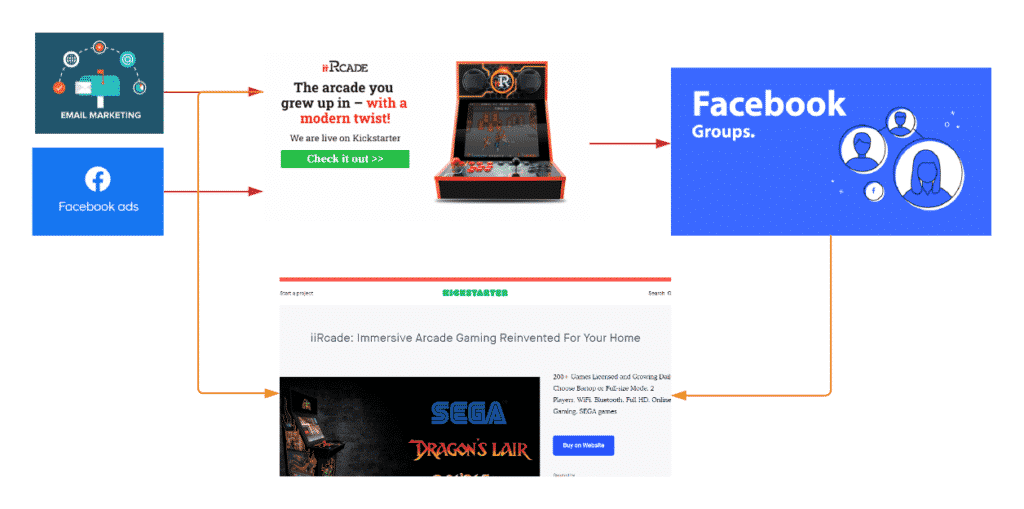 2. Positioning the Product for Retro Gamers
We created a simple landing page for iiRcade with the key message focusing on nostalgia associated with gaming in the 80s and 90s. It was aimed at late millennials – people who grew up with these games and now would love to go back to them with their kids.
With the landing page, we also created Facebook ads and email copies for people in their late 20s and 30s. Additionally, we also positioned the product as a family entertainment unit that would connect todays' kids and their parents over a nice game of Dragon's Lair.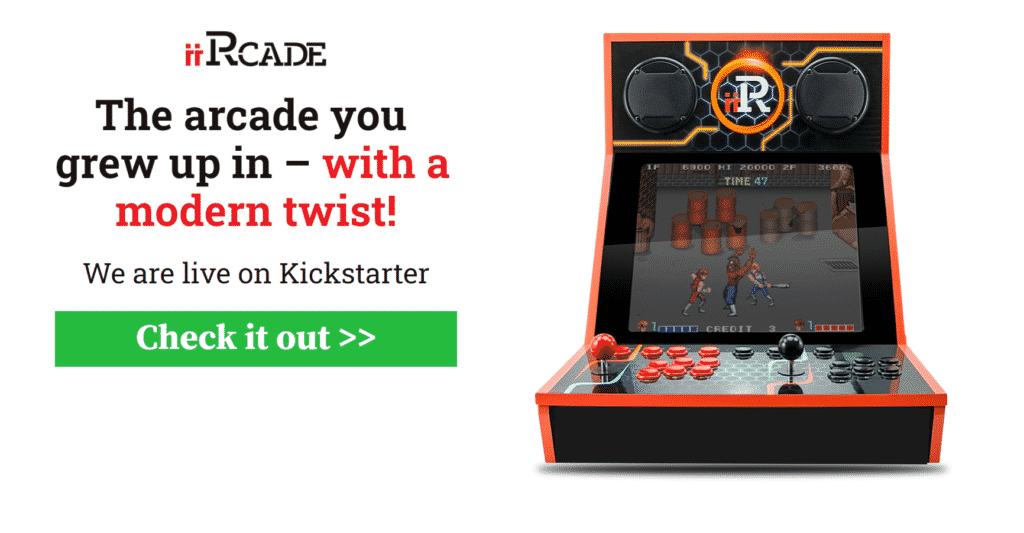 3. Using Visuals Focusing on the Fun of Retro Gaming
We always recommend clients to have at least one product video ready along with dozens of high-quality images before the start of a campaign.
With iiRcade, we had a range of product images including GIFs and shots of retro games that would later be used across various communication platforms.
The strategy was to attract people to the idea of retro gaming on an arcade machine that looked so cool, you'd regret not having it in your room!
4. Building a Community of Retro Gamers
With everything set up, finally, we created a private (but visible) group for iiRcade.
With iiRcade, we positioned the group as an active community of retro gamers. It wasn't just 'another product' group, but a community built around an idea which the product helps bring to life.
This community would also be backers to the project and would eventually be the people we'll be targeting for referral marketing.
The Strategy that Got Us 200% ROI & Made iiRcade a Kickstarter TOP project in Just 1 Week….
Once we gathered an army of loyal followers through email marketing and ads, we decided to amplify the efforts by trying a content strategy that no one else had done before.
We asked the iiRcade founder to go LIVE every Tuesday with no fail, at the exact same time and play the game on his arcade machine.
BOOM!
We had a content plan for the founder, where every week, he was to go live on Facebook and give in-depth demos of different demo games on the iiRcade.
How Did We Set this Up?
We very quickly realized that email marketing or paid ads would not be enough to get people interested about the product.
We needed people to start TALKING about it.
And the only way they could talk about it was if they could see what it was about!
This solved many of our challenges:
It helped us with the credibility challenge. People could see a product in action. They could see the founder of the product playing at his very own prototype arcade machine.
It helped us communicate the message of a home gaming system. The founder would go live playing games with his team members which drove home the point of 'fun at home or at work.'
People were able to relate to the founder. Because the founder was in his natural setting playing a retro game, people we were targeting (early 30s onwards) were able to relate to him.
What did the Live Demos Include?
In each live session, the team gave demos for games like Riptide GP Renegade, Mechanic Escape and R-Type today.
Here's how one demo session went:
Giving product updates:
During each session, Jong-Wook Shin the founder of iiRcade would give product updates, ensuring people would stay in the know regarding any progress in terms of product and campaign development.
Sharing progress and updates about your product builds trust and credibility with your audience. Later, when the pandemic would cause shipment problems, Jong-Wook Shin was able to bank on this trust to earn the confidence and support of his followers even when the product faced delayed shipment.
Listening & Responding to Feedback:
People's questions and feedback were taken seriously. Jong-Wook Shin collected all this information and feedback after every session and would work on addressing them to make the sessions more efficient.
Listening and responding to feedback helps define you as a brand that cares about its audience. When people feel they are heard or cared for, they start talking about the brand and you get word-of-mouth-marketing that leads to plenty of growth opportunities.
Meeting the Team:
In the fifth live session, the two key members, Shawn and Minshik were interviewed by Colin Tretheway of PR Media Now. The session focused on how the team would be taking iiRcade to the next-level and the plans they had for hitting the retailer market.
The fact that the founder was involved and posted every week with consistency helped build credibility.
Our whole strategy was really very simple – connecting people with the founder and making him the face of the brand, showing that he cared for the community.
And that worked like magic.
The Result – $100K in 10 Minutes
It was crazy.
We made $100K in 10 minutes in our first launch.
The campaign was 100% funded in 3 minutes!
The project was on Page 1 of Kickstarter.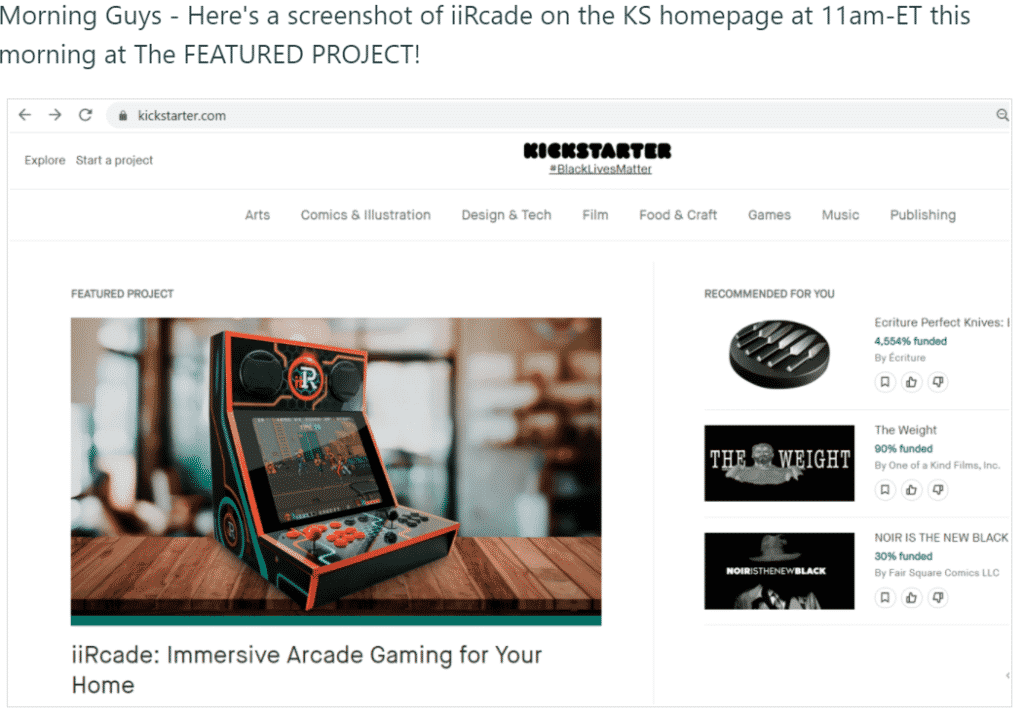 We had an average of $12, 461 pledges per day!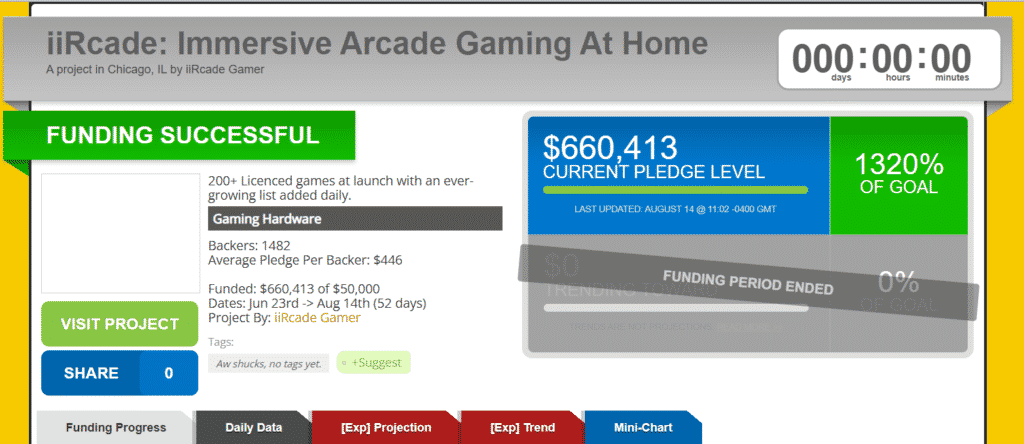 Getting the Ball Rolling with Multiple Strategies at a Time
Once we had everything set up, we used a combination of three marketing strategies to get the product off the ground:
FOMO Email Marketing: We planned a series of emails using urgency (FOMO tactics) such as limiting availability for different reward tiers or giving exclusive discounts for only a few remaining days. This improved our conversion rate by 10%.
Referral Marketing: When the campaign was live, we had the referral marketing sign up on the landing page which boosted our audience sign ups. People loved the idea so much; they began referring their friends and family who then signed up via the landing page. This helped us target a broader audience with retargeting and remarketing ads.
The combination of these different strategies helped iiRcade launch on Kickstarter making it the top-most funded project in just two weeks of launch.
We were also able to resolve the shipment problem by excluding shipping costs from the actual Kickstarter page. We informed customers that they would be updated with the shipment costs later (we did give an estimate). That generated millions of dollars & encouraged people to back the project.
Over time, the community thrived to an amazing 6.6K members while the product transitioned from the Kickstarter page to a website where it now delivers across the United States and other select countries of the world.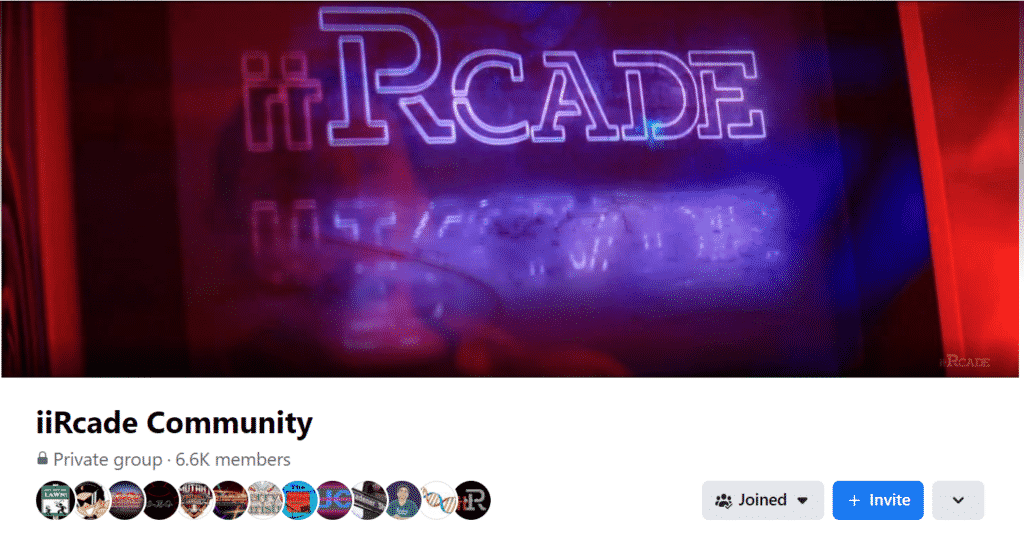 Like what you see? Want to launch your product? Talk to us to see if your product meets crowdfunding eligibility criteria. If it does, let's get you funded from day one!