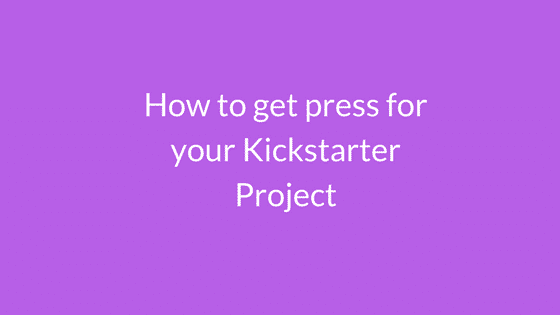 How to get press for your Kickstarter Project
How to get press for your Kickstarter Project 
Getting press for your Kickstarter project is one of the best ways to drive your project to success.
According to various reports, journalists receive a large number of pitches from businesses trying to get press for their Kickstarter project. The journalists get on daily between 25 to 100 emails per day. Most of these pitches are unopened by the journalists.
However, do not let these statistics put you off. We are going to show you the best way to pitch your Kickstarter project to the press and getting journalists to notice your campaign.
Journalists
Don't assume that journalists are working for you or to promote your campaign. Journalists work for their readers and try to offer them what is beneficial to them. They do not have to write or review your product even if they have opened and seen your email.
So, therefore, you have to research and find journalists who covered projects or products that are similar to your own. This is the best way to ensure that your project would be of interest to the person you are emailing it to.
Send the journalists well-organized information about your project which they can use to write an article, include images and pictures if possible.  Some useful tools you can use to get press for your Kickstarter project are:
Followerwonk
Muck Rack
Cision
ProfNet
Haro
Small Media Publications
When you pitch to the press for your Kickstarter project most journalists will check to see if someone else has covered it before or not. You will have a better chance of getting covered by the larger media outlets if you have local or smaller media coverage.
You are far more likely to find that local journalists are easier to reach and have more time to engage with your project.
Your story
There will be hundreds of crowdfunding projects similar to yours pitching to the press their Kickstarter project. The main thing that will set apart your campaign is the story behind it.
Remember journalists are people and you have to get them emotionally attached to your campaign. You should explain in detail how the idea of developing your project came up and what was your inspiration to bring the project to life.
If you build an emotional connection between your project and the journalists, you're more likely to get your project covered.
Furthermore, include in your press release the struggles and obstacles you have had to overcome and how you managed to overcome them. You have to stand out from the numerous emails they receive each day.
Even if you do your research and find the perfect journalists you will most likely be ignored without a compelling story.
Pitch early
You should start reaching out to the press two weeks before you launch, and then send a follow up on the day before your project goes live and on launch day.
This is because some media publications are not published on a daily basis. Therefore, it will take longer for these media outlets to be able to cover your project. It is therefore vital that your press release is shared while your campaign is live.
Have a look at any major events around the time of your launch like thanksgiving, elections, new tech products releases like Apple iPhone etc. If your launch day happens to fall within any of these events you should maybe look at changing your date of launch.
Subject/headline of your press release
The subject line of your email reach out will determine whether or not the journalist will open your email or not. Having a powerful email subject line that captures their attention will increase your chances of gaining press.
Images and Videos
Adding high-quality images and videos of your campaign will help the reporter add content to their articles, journalists are fighting for eyeballs to their articles so images/videos will help do this.
Don't make the reporter go and find pictures of your campaign, make it easy for them by including a press kit hosted on Google Drive. Include a variety of high-quality pictures and videos to give the journalists a choice.
Furthermore, if more than one journalist decides to cover your project, you don't want them to be using the same picture and video of your product.
Influencers
Don't forget to reach out to influencers. It may seem that influencers are harder to reach and engage with than journalists but that is not the case.
Influencers are a very good place to start pitching. Journalists and other major news personalities typically follow influencers. Journalists often use products used and shared by influencers because these influencers can reach a huge amount of people.
Find famous influencers on apps like Twitter/Instagram/Youtube and reach out to them about your product. Not only can this get your project media coverage but can make a huge impact on your campaign as a whole.
Conclusion
In this article, we have given you the best way to get press for your Kickstarter project. Getting press coverage and especially for the larger media outlets can really take your campaign to unimaginable heights. Therefore, you should put great care and time into press outreach and you will see all your efforts pay off.