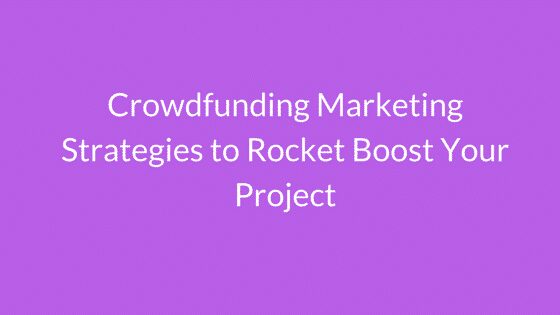 Crowdfunding Marketing Strategies to Rocket Boost Your Project
Entrepreneurs, start-ups and small businesses over the recent years have been able to raise capital through crowdfunding platforms using crowdfunding marketing strategies. We are not only talking about a few thousand dollars here, we are talking millions.
The benefits of raising such easy and fast capital has increased the number of campaigns trying to get in on the action. However, while some crowdfunding projects raise millions of dollars, the majority fall short. According to a new report, between 69 and 89 percent of projects fail to reach their goal depending on the crowdfunding platform.
It is very difficult to impress a lot of people with an idea and what is more difficult is trying to capture their attention. So to make a success of your crowdfunding campaign, you need a set out a clear crowdfunding marketing strategy that will help you overcome all the hurdles you may encounter.
That is why we wrote this article, to help you drive traffic to a successful campaign.
Follow our guide and you will hopefully have nothing to worry about. Effective crowdfunding marketing of your project can go a long way, for example, Pebble E-Paper watch managed to raise over $10million in 37 days.
Firstly let us look at why the majority of crowdfunding campaigns fail to reach their targets, so you can avoid their mistakes and are made aware of the main reasons for failure. The main reason for the failure of a lot of projects is that they neglected their pre-launch preparations.  
Many crowdfunders believe that their main choice before their launch is choosing which platform to launch on, for example, Kickstarter or Indiegogo. Once your campaign has already launched, and it doesn't go to plan, then it is almost impossible to improve it.
Therefore, you should spend at least three months pre-launch, coming up with the most effective crowdfunding marketing strategy to drive your project to success.
Other reasons for project failure include:
Not having at least 30% of the funding guaranteed before launch.

Not having enough emails for potential backers

No social media or press outreach

Bad quality product
1. Reaching and building your Audience
To understand your audience, first, you need to understand and study your own project. Spend time researching your own product and try to identify a target audience, because let's face it, not everyone is going to be interested.
When you get to the stage of narrowing down your target audience, you will be able to determine how you should market your campaign. You should research the market and then see how your competition created their marketing strategy. After completing these steps you are ready to create the perfect crowdfunding marketing strategy for your audience.
2. Choosing the appropriate Platform
There are numerous crowdfunding platforms out there, and in order for your campaign to succeed, you need to pick the right one.
Each platform has its pros and cons,  you need to do your research and look at products similar to yours that have already launched. The two biggest crowdfunding sites are Kickstarter, Indiegogo. Make sure you research them first and then check out the others.
3. Social Media
Don't underestimate the power of social media. Social media plays a huge role in any successful crowdfunding campaign and it is probably the reason why most people have heard or will hear about your campaign. Try and create accounts on most of the popular social media websites like Facebook, Instagram, Twitter, Youtube, Linkedin.
After setting up as many accounts as you can on different social media sites, your next step is to try and promote your project to as many people as you can, just 100 social media followers can drive you closer to reaching your goal.
You can also use paid ads on social media, it enables you to reach your target audience specifically. Paid advertisements will definitely boost your campaign and are one of the most important aspects of crowdfunding marketing strategies.
4. The Press
To make sure that you get press coverage, you have to create a project that is unique and has many selling points. Creating such a project will catch the attention of the press without you needing to do much. Focus on your product and how to differentiate it from other similar projects.
Pitching your story is important rather than just the campaign. Write about why your story is encouraged you pursue your campaign.  Share your inspirations, your struggles, and your triumphs.
Make sure you find journalists that are relevant to your product. Publications have many journalists you want to find the right one for your campaign and to reach your target audience.
Research similar products that have launched and collect the info of the journalist and publication that wrote about those products.  Lastly, don't just pitch to large media outlets, pitch to your local media too.
5. Blog Writing
A lot of people underestimate the importance of writing a blog, It is can help your campaign in various ways. For example, you can provide your fans with the latest updates about the progress of your campaign.
Your potential backers will keep visiting back your blog and be checking in anticipation of a new update about the product.
The blog serves as the foundation of your content marketing strategy for your crowdfunding campaign. With great written blog posts, you can draw the attention of a huge social media audience.
6. Advertising
If you want to have a successful product, you will need to spend money. To make money you need to spend money.  The best place, in my opinion, is to advertise on Facebook. Facebook has a huge number of active users. As of the third quarter of 2016, Facebook had over 1.79 billion active users around the world. With Facebook advertising, you can get very specific about who you are targeting.
You have to create a catch message to display to people who are you targeting.  This goes back to the to the first vital step mentioned in this article. You have to narrow down your audience reach to the people who will be interested in your campaign.
If you find that your ad is not converting, try and test out different messages and images, be creative so you can catch people's attention. Do it right and Facebook advertising can be one of the most important factors that drive you to exceed your crowdfunding goals.
Follow these simple steps mentioned in this article and you will have a successful crowdfunding campaign. Don't just count on people visiting crowdfunding platforms to see and like your project, you have to make sure your project reaches as many people as possible and especially your target audience.